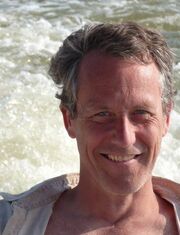 Tim Prasil is probably best known for his audio plays produced by Toronto's Decoder Ring Theatre and, especially, for his Marvellous Boxes series done with them. This series was posted on the DRT website from March to August of 2012. It encompassed many genres, from science fiction to alternate history and magic realism to realism, but each drama featured some kind of box. "Frozen Words Thawed," one of the plays from this series, was chosen by the Australian Broadcasting Corporation for national broadcast on their programme Top of the Pods on July 24, 2012.
Prasil's earlier DRT plays are "Thinking in Ternary," "The Crasher," and "The Magic of the Movies." "The Crasher" was selected by Boston's Post-Meridian Radio Players to be part of their 2012 production Tomes of Terror: New Arrivals, a live, onstage performance of three audio dramas.
To generate interest for his new series, titled Vera Van Slyke: Help for the Haunted, Prasil is offering free short stories on his blog. He plans to adapt a few of these stories to audio drama.
Prasil's blog is at http://timprasil.wordpress.com/ , and he can be followed on Facebook and Twitter.
Ad blocker interference detected!
Wikia is a free-to-use site that makes money from advertising. We have a modified experience for viewers using ad blockers

Wikia is not accessible if you've made further modifications. Remove the custom ad blocker rule(s) and the page will load as expected.