Sir Tom Stoppard OM, CBE, FRSL (born Tomáš Straussler 3 July 1937) is an influential British playwright, knighted in 1997.[1] He has written prolifically for TV, radio, film and stage. He is perhaps most famous for his stage play Rosencrantz and Guildenstern are Dead. Notable radio plays include Artist Descending A Staircase, Albert's Bridge, Professional Foul and The Dog It Was That Died.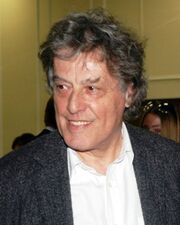 Biography
Edit
Stoppard was born Tomáš Straussler, in Zlín, a "Shoe Town", in the Moravia region of Czechoslovakia. He was the son of Martha Beckova and Eugen Straüssler, a doctor with the Bata shoe company. Both parents were Jewish. In 1939, Stoppard left Czechoslovakia as a child refugee, fleeing imminent Nazi occupation. In 1945, his mother Martha married British army major Kenneth Stoppard, who gave the boys his English surname and, in 1946, after the war, moved the family to England. After being educated by schools in Nottingham and Yorkshire, Stoppard became a journalist, a drama critic and then, in 1960, a playwright. He has been married twice, to Josie Ingle (1965–1972) and Miriam Stoppard (1972–1992), and has two sons, one from each marriage, including actor Ed Stoppard.
Stage and Film Career
Edit
Radio Career
Edit
Stoppard's first play for radio was The Dissolution of Dominic Boot for the radio series Just Before Midnight in 1964. Discovered by script editor Richard Imison, the commission allowed him to continue writing, and was followed by many others works, both original radio plays and radio adaptations of his stage work.
He won a Giles Cooper Award in 1982 for The Dog It Was That Died and another in 1991 for In the Native State. In 1968 he won the Prix Italia for Albert's Bridge. His most recent original work for radio is the 2008 production of On Dover Beach.
Radio Plays
Edit
References
Edit
↑ Drakakis, John (editor). British Radio Drama. Cambridge University Press 1981.
External links
Edit
Ad blocker interference detected!
Wikia is a free-to-use site that makes money from advertising. We have a modified experience for viewers using ad blockers

Wikia is not accessible if you've made further modifications. Remove the custom ad blocker rule(s) and the page will load as expected.