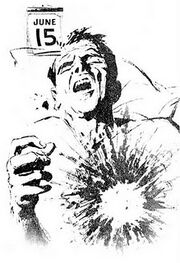 The Tunnel Under The World
by
Frederick Pohl
Dramatized by
Mike Walker
Directed by
Ned Chaillet
BBC Radio 4
-
Afternoon Play
- 22.12.2000
45mins
Frederick Pohl's influential science fiction tale
Guy wakes each morning from the same terrifying dream, but each day it is soothed away by special offers and an abundance of consumer goods. Then, one day, he begins to recall a little more.
Critical Reception
Edit
References
Edit
Ad blocker interference detected!
Wikia is a free-to-use site that makes money from advertising. We have a modified experience for viewers using ad blockers

Wikia is not accessible if you've made further modifications. Remove the custom ad blocker rule(s) and the page will load as expected.