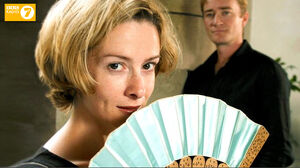 Vanity Fair by William Makepeace Thackeray
Dramatized by Stephen Wyatt
Directed by Claire Grove and Marc Beeby
BBC Radio 4 - Womans Hour Drama - 13.09.2004
20 x 15mins episodes
Stephen Fry narrates one of the greatest comic novels of the Victorian period.
Episode 01 - 13.09.2004 - Orphaned wilful Becky Sharp and her wealthy sweet-natured friend Amelia Sedley leave school in Chiswick.
Episode 02 - 14.09.2004 - Ambitious Becky Sharp awaits a proposal of marriage, while Amelia meets her old friend Dobbin who is still captivated by her.
Episode 03 - 15.09.2004 - Becky Sharp continues to attract admirers in Thackeray's classic tale of passion and ambition.
Episode 04 - 16.09.2004 - Attracted by the possibility of romance and an inheritance, Becky Sharp charms the wealthy Miss Crawley and her nephew Rawdon.
Episode 05 - 17.09.2004 - An unexpected offer of marriage finally comes her way when Becky Sharp is in London with the ailing spinster Miss Crawley.
Episode 06 - 20.09.2004 - Becky Sharp has gained a husband but lost the chance of a title and Amelia's father has lost all his money.
Episode 07 - 21.09.2004 - The Sedleys have been ruined and Osborne breaks his engagement with Amelia Sedley, but for how long?
Episode 08 - 22.09.2004 - George and Amelia honeymoon in Brighton, where Becky and Rawdon are trying to win the affections of his rich aunt Miss Crawley.
Episode 09 - 23.09.2004 - Amelia follows George and the regiment to Brussels, and Becky Sharp attracts an army of admirers.
Episode 10 - 24.09.2004 - 1815 - The Battle of Waterloo. George and Rawdon go to fight while Becky and Amelia wait for news.
Episode 11 - 27.09.2004 - After George's death, Amelia and Dobbin return to England and Miss Crawley is still trying to decide who will inherit her money.
Episode 12 - 28.09.2004 - Back in London, Becky and Rawdon face an uncertain financial future. But Becky has some plans.
Episode 13 - 29.09.2004 - Becky and Rawdon pay a tactical visit to their country relatives, and Becky acquires a new companion.
Episode 14 - 30.09.2004 - In serious financial difficulties, Amelia is forced to make a terrible decision about little Georgie's future.
Episode 15 - 01.10.2004 - Becky's social standing reaches its height when she is presented at court. But Rawdon is less than happy.
Episode 16 - 04.10.2004 - Rawdon is released from Debtors' prison. But his return home only leads to further trouble.
Episode 17 - 05.10.2004 - Entrusting the care of his son to the Pitt Crawleys, Rawdon prepares to fight a duel with Lord Steyne - but will he?
Episode 18 - 06.10.2004 - William Dobbin returns from India to declare his love for Amelia - but will she accept him? Or has he gone too far?
Episode 19 - 07.10.2004 - Amelia, Jos and William Dobbin travel to Europe, where they meet an old friend, or should that be enemy?
Episode 20 - 08.10.2004 - The fair ends, and the play is played out. Becky, Jos, Amelia and William's futures are finally decided.
Critical Reception
Edit
References
Edit
Ad blocker interference detected!
Wikia is a free-to-use site that makes money from advertising. We have a modified experience for viewers using ad blockers

Wikia is not accessible if you've made further modifications. Remove the custom ad blocker rule(s) and the page will load as expected.