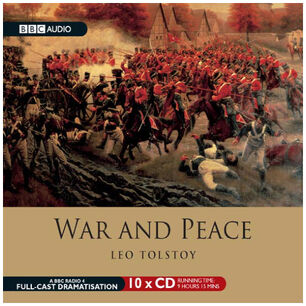 War and Peace by Leo Tolstoy
Dramatized by Mike Walker and Marcy Kahan
Directed by Eoin O'Callaghan and Janet Whitaker
BBC Radio 4 - Classic Serial -16.11.1997
10 x 60mins episodes
Leo Tolstoy's famous epic novel, dramatized in ten parts.
Episode 01 - 16.11.1997 - Plots And Stratagems - It is 1805, and Napoleon Bonaparte is threatening the peace of Europe. In St Petersburg and Moscow, aristocratic families gossip, intrigue and enjoy themselves, unaware that the threat will alter their lives for ever.
Episode 02 - 23.11.1997 - Disillusionment - It is 1805, and the Austrians - Russia's allies - have been routed by Napoleon, leaving Kutuzov's army, and in particular Prince Andrei Bolkonsky, facing almost certain annihilation at Austerlitz.
Episode 03 - 30.11.1997 - Things Fall Apart - 1806. Nikolai returns and gets caught up in a duel between Pierre and Dolohov, but Andrei is missing as Lise goes into labour.
Episode 04 - 07.12.1997 - Spring - With all of Europe teetering on the brink of war, only two powers stand against Napoleon - Great Britain at sea and Russia by land. And while Pierre Bezuhov has been betrayed by his wife, Andrei Bolkonsky prepares to rediscover love.
Episode 05 - 14.12.1997 - Country Pleasures - It is 1810, and an uneasy peace reigns. Andrei realises that he has fallen in love with Natasha, but, as Christmas comes, all is not well in the Rostov family.
Episode 06 - 28.12.1997 - Natasha's Crucible - It is 1811, and despite the peace, Napoleon's troops are massing in Poland, while in Moscow disaster strikes the Rostovs when Natasha is seduced.
Episode 07 - 04.01.1998 - The Old World Lost - It is 1812, and despite having sworn brotherly love to Tsar Alexander, Napoleon has struck deep into the heart of Russia. The Bolkonsky estate is in jeopardy. And, once Smolensk has fallen, Bonaparte may soon be at the gates of Moscow.
Episode 08 - 11.01.1998 - Borodino - It is 1812, and the French army has surged through Smolensk and is now converging on Borodino, before Moscow. Her father dead, Maria has fled Bald Hills, and now even the Rostovs prepare to leave the city.
Episode 09 - 18.01.1998 - At The Gates Of Moscow - It is 1812. Napoleon enters a deserted Moscow, and Pierre is imprisoned by the French. The dying Andrei is reunited with Natasha.
Episode 10 - 25.01.1998 - The World Transformed - It is 1812, and Kutuzov has withdrawn to beyond Moscow, leaving Napoleon no alternative but to retreat. As "General Winter' takes hold, his dream of conquest turns to nightmare in a desperate dash for the Russian border.
Critical Reception
Edit
The production won the 1998 Talkie award for Best Drama
References
Edit
and from recording of broadcast
Ad blocker interference detected!
Wikia is a free-to-use site that makes money from advertising. We have a modified experience for viewers using ad blockers

Wikia is not accessible if you've made further modifications. Remove the custom ad blocker rule(s) and the page will load as expected.