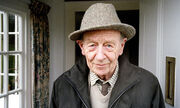 William Trevor
, KBE (born 24 May 1928) is an Irish author and playwright. Best known for his short stories, he has also written novels and radio plays, winning two
Giles Cooper Awards
, in 1980 for
Beyond the Pale
and in 1982 for
Autumn Sunshine
.
Biography
Edit
Born as William Trevor Cox in Mitchelstown, County Cork, Ireland to a middle-class Protestant family, he moved several times to other provincial towns as a result of his father's work as a bank official. He was educated at St. Columba's College, Dublin, and at Trinity College], Dublin, from which he received a degree in history. Trevor worked as a sculptor[1] under the name Trevor Cox[2] after his graduation from Trinity College, supplementing his income by teaching.
He married Jane Ryan in 1952 and emigrated to England two years later, working as a copywriter for an advertising agency. His first novel, A Standard of Behaviour, was published in 1958, but had little critical success. In 1964, at the age of 36, Trevor won the Hawthornden Prize for Literature for The Old Boys. The win encouraged Trevor to become a full-time writer. He and his family moved to Devon in England, where he has resided ever since. Despite having spent most of his life in England, he considers himself to be "Irish in every vein".
Other Writing
Edit
Radio Plays
Edit
References
Edit
External Links
Edit
Ad blocker interference detected!
Wikia is a free-to-use site that makes money from advertising. We have a modified experience for viewers using ad blockers

Wikia is not accessible if you've made further modifications. Remove the custom ad blocker rule(s) and the page will load as expected.