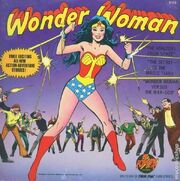 The Power Records Wonder Woman series is a series of audio dramas based on the comic book heroine and produced for children's records in the 1970s. The stories were released in several different combinations and sometimes included a comic book of the story.
The Return of Brunhilde
Wonder Woman vs. the War God
The Secret of the Magic Tiara
Amazons From Space
Prisoner of Christmas Island
External Links
Edit
Ad blocker interference detected!
Wikia is a free-to-use site that makes money from advertising. We have a modified experience for viewers using ad blockers

Wikia is not accessible if you've made further modifications. Remove the custom ad blocker rule(s) and the page will load as expected.