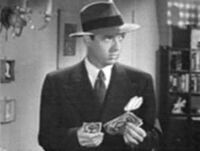 Yours Truly, Johnny Dollar was a radio drama of "the transcribed adventures of the man with the action-packed expense account — America's fabulous freelance insurance investigator." The show aired on CBS Radio from January 14, 1949 to September 30, 1962. There were 811 episodes in the 12-year run, and more than 720 still exist today.
Johnny Dollar was played by eight actors over the show's run:
List of Yours Truly, Johnny Dollar episodes
External Links
Edit
Ad blocker interference detected!
Wikia is a free-to-use site that makes money from advertising. We have a modified experience for viewers using ad blockers

Wikia is not accessible if you've made further modifications. Remove the custom ad blocker rule(s) and the page will load as expected.